EstimationTool
Single-molecule parameter estimation
The ability to localize/resolve single molecules continues to play a key role in single molecule data analysis. The EstimationTool allows a user to perform localization and resolution estimation tasks on images of fluorescent objects (like single molecules, vesicles, etc.). It offers various choices of estimators (non-linear least squares estimator, maximum liklihood estimator, etc.), various choices of point spread functions (Airy point spread function, Born-Wolf point spread function, Gibson-Lanni point spread function, etc.) with which to fit the data. Users can customize virtually every aspect of the localization/resolution task. The localization/resolution results can be exported for further applications like tracking or diffusion coefficient calculations.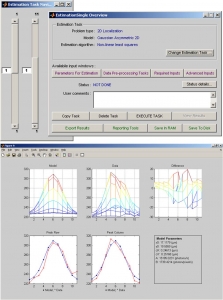 Currently Available Version
V1.3 (December 31, 2008) Please note that this is a Beta version.
Minimum System Requirements
PC with Pentium IV or equivalent processor suggested
Windows XP Service Pack 2 *
256 MB RAM
1024 x 768 screen resolution
* Although MATLAB and the MCR are available on the Linux/Unix and MacOS platforms, this executable version of the software can run only on a PC with Windows XP and will NOT work in a Linux/Unix or Mac environment.
How to obtain the software
If you are interested in access to one of our software, please contact us at info@wardoberlab.com
FAQ
None available as yet.
Release Notes
V1.3. Introduces the capability to perform 3D Multi-focal plane localization.
V1.2. Removes a bug in V1.0 and V1.1 which occured when some TIFF files were being read.
Bug Reporting
We are constantly trying to improve this software and would be very grateful if you could send us a report on any bugs you find. Please send all bug reports to the email address software@wardoberlab.com with the subject EstimationTool Bug. Please include as many details about the bug as you can, including details of all tasks that led up to exposure of the bug. This will help us in finding a solution to the problem. When we have a fix for the problem, we will release an updated version of the software. Please look in the Release Notes section for problems we are already aware of and have solutions for.
EstimationTool Development Team
Current Members
Jerry Chao
Anish V. Abraham
Past Members
Acknowledgments
The development work for EstimationTool was supported in part by the National Institutes of Health.
Contact Address
Raimund J. Ober, Ph.D.

Professor
Department of Biomedical Engineering
Texas A&M University
College Station, TX 77843-1114, USA

E. Sally Ward, Ph.D.

Professor
Department of Molecular and
Cellular Medicine
Texas A&M Health Science Center
Joe H. Reynolds Medical Sciences Building
College Station, TX 77843-1114, USA